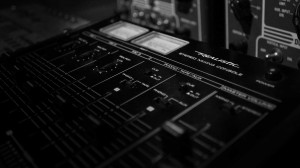 The year was 1989.
A year out of high school, I was unsure of what I wanted to do for a career.  I was majoring in communications at UTEP, but I didn't know if I truly wanted to work in the broadcasting field.  I really liked music, but I never had any formal music training.  I was listening to the music that was coming out of England at the time.  The artists I listened to (Coldcut, Bomb the Bass, Beats International, etc.) were inspired by the House and Hip Hop music coming from America, and were putting their own spin on the sound.  What really interested me at the time was how making it seemed accessible.  I saw that these underground artists were making music in their small, bedroom studios.
It was then that I decided I was gonna make music like that.  Not necessarily as a career.  But I was gonna do it.
I already had a few Casio keyboards, but what I needed was a computer.  I had been thinking of getting an Atari ST, since they were designed with music in mind.  But then I saw the Commodore Amiga 500.  With its graphics and sound capability, I was sold.  That summer, I had a computer with a MIDI/Sampling interface, and was making beats.  I was really inspired by the before mentioned groups, plus albums that had come out that year:  "Paul's Boutique" by the Beastie Boys, "3 Feet High and Rising" by De La Soul, "Megatop Phoenix" by Big Audio Dynamite, and others.
I wanted a production name.  One that was a play on words, based on my studio.  At the time the only recording equipment I could afford was the Radio Shack "Realistic" brand.  That was the "Realistic" in Sir Realistic.
For the next few years, I continued attending UTEP, taking the Electronic Music classes there, working at a movie theatre, and coming home to work on music.  Soon I met other people who were into making similar music as myself, and I began to record them as well.  Eventually, after a long heart to heart with my mom, I decided that I should take the next step and go to a specialized school for recording.
In 1997, I graduated from Full Sail University with a degree in Audio Recording.  Afterward, I decided to return to El Paso, and find work in a studio.  I soon learned that the studios weren't hiring.  I remembered that one of my instructors from Full Sail said that I should try to find work in a television studio, since they usually needed audio specialists.  Not sure how true that was, but, thanks to my girlfriend at the time (she worked at KDBC, the CBS affiliate in El Paso), I was able to get an interview at a station, and, after about a month, got an entry-level job there.
I started as a camera operator.  Not exactly what I wanted to do, but I was eager to learn everything I could.  About four months later, I was moved to weekend Chyron operator (the guy who puts lower third graphics on top of the talent).  Not too exciting, but I learned how to use Adobe Photoshop.  Finally, after a few months of doing that, an audio position opened up.  Morning shift.  REALLY early morning shift.
That's when I realized that television audio is definitely not the same as recording studio audio.  Sure, occasionally there would be a band come in and I could mix them, but other than that it was just "mic on", "mic off"…  I needed something a little more creative.  I was still recording people at my home studio, and I had even scored a deal producing the theme music for our newscasts.
After about 8 months of doing morning audio, I moved to the weekend graphics / audio position.  A nice compromise of the creative, making graphics, and the audio stuff.  I was also starting to realize that television was a revolving door, as people were constantly coming in and leaving.  Soon I was moved into the weekday graphics position, but even that didn't last long.
The creative services position opened up, and because of my graphics experience, and because I knew about audio editing software, my boss thought I could learn non-linear video editing.  I accepted, and soon learned Media 100 and Adobe After Effects.  I began producing commercials, station promos, and designing the news graphics packages.  I was creating full time, and was getting recognized for my work, winning a couple of Addy awards.
Meanwhile, at home, I was still producing music, for myself and for other artists.  Thanks to DJ Marc X, we had remixed a song for the rap group 95 south.  And we got paid for it!  in 2001, under the guise Mano Sol, I submitted some songs for MTV's Undressed.  It was like a cross between "Beverly Hills 90210" and soft porn.  They ended using two of my songs.  I released my first cd a few months later.
In 2003 I was offered a job at El Paso Honda, as they had recently opened up a production studio.  I worked there for 3 years.  It was there that I learned how to shoot video and light sets (we always had the studio photographers shoot and light the commercials), as well as court clients.  In 2006, after a meeting with my co-worker Robert and his friend Rick, we decided to leave El Paso Honda and go into business for ourselves.
It's a great collaboration:  Rick dealt with political consulting, Robert with graphic and web design, and I did all the audio and video production.  For the first year we all worked from home, meeting once a week at Starbucks.  In July 2007, we found our current space at 301 E. San Antonio St., in downtown El Paso.  Initially it was hard finding steady work, but thanks to word of mouth and perseverance, things have gotten much better.
Now as I type this, I still look at that little Realistic mixer I still have 25 years later.  I would have never believed that I would be owning my own business, doing what I love, and getting paid for it.  I've learned that hard work and pride in your craft will take you far, and I can't wait to see what the future brings me…
Tony Dueñez